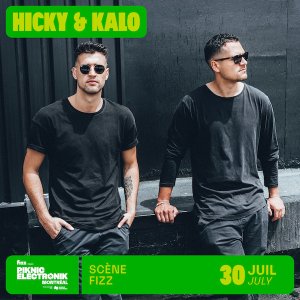 Montreal's favorite electronic music event, Piknic Electronik, welcomed back the celebrated duo Hicky & Kalo to its main stage, sharing the spotlight with Chris Avantgarde. A crowd of avid music lovers was treated to a stunning 3.5-hour set by Hicky & Kalo, a performance that once again cemented their reputation as dynamic and innovative artists.
The energy was electric as the duo played their deep, atmospheric tunes, taking the audience on a musical journey that resonated throughout the venue. Their set showcased a perfect blend of organic house, progressive, and melodic techno, engaging the crowd in a rhythmic dance that lasted well into the evening.
For those who missed the live event or wish to relive the magic, the last 2.5 hours of Hicky & Kalo's set is available on YouTube, capturing the essence of their unique sound and the euphoria of the crowd.
This performance at Piknic Electronik Montreal 2023 is a highlight in Hicky & Kalo's growing success story, demonstrating their ability to captivate audiences with their music. The main stage has never sounded so good.