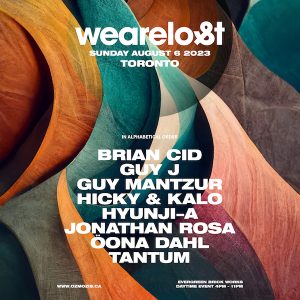 We Are Lost Festival is back for its 3rd Canadian Edition, and the lineup is set to be nothing short of spectacular, featuring two stages of music both indoor and outdoor. This event, happening on Civic Holiday Long Weekend, promises to unite the most sophisticated and respectful music enthusiasts for a memorable day on the dancefloor.
Among the 5 international artists, Montreal-based duo Hicky & Kalo will be performing their captivating set, known for deep and atmospheric sounds that mesmerize audiences. This dynamic pair is set to leave their mark at the Evergreen Brick Works, a venue transformed from heritage buildings into an award-winning public space.
With tickets available at HERE, fans are encouraged to book early as anticipation builds for this 19+ event. Please note that there is a delivery delay, and tickets will be sent via email a few days before the event.
Hicky & Kalo's performance at We Are Lost Festival symbolizes the global reach of their talent and their ability to connect with fans in new and exciting places. Toronto's dancefloor awaits, and Hicky & Kalo are ready to deliver.